In producing a film charting his 30 day photography project making images of one beach in Luskentyre on the Isle of Harris, landscape photographer Nigel Danson shows us how to make the most of the photography life. His enjoyment, exhilaration and passion is infectious and a joy to watch. Read this mini-review and see how everything worked out in this 3 part adventure on Luskentyre
Please note, any images here are copyright © Nigel Danson and all rights reserved. They are used here just for review purposes
I woke early one Sunday morning four months ago and switched on the tablet to watch some telly. Sunday mornings are quiet, and I often use this time to learn or reflect on my photography and writing practice.
To help me on this journey, especially when it comes to landscape photography, I subscribe to and follow several landscape photographers on Youtube. One such photographer is Nigel Danson, and on this particular morning, he'd published part one of his film about spending 30 days photographing one beach in Scotland.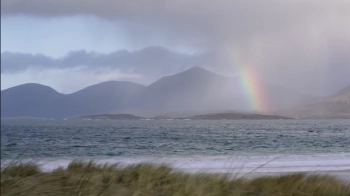 Many of us are part-time photographers, but Nigel, like many of the landscape photographers I follow on YouTube, works full-time as a Landscape photographer. These filmmakers' work is inspiring, and the best of them find new and exciting ways to present their work, but with this film, Danson has raised the bar for his contemporaries.
Spirit of Luskentyre - Part One
In the first part of the series, Danson explains his motivation and why he chose this beach to concentrate on. The film is so compelling I knew I wanted the book and pre-ordered it as soon as episode one was complete. Some months later, I was not disappointed when it finally arrived; it's become one of my favourite photography books.
There are a further two parts to this adventure, and Danson does a great job of building the anticipation of even better images in the subsequent films. I was travelling the day the last of the trilogy was released, but because I was in an earlier timezone, I still got to watch it soon after it was uploaded.
Danson has many excellent videos on his Youtube. Take a look I recommend you subscribe to his channel.
Images in this review are copyright Nigel Danson and all rights are reserved