Set in one of Rio De Janeiro's 600 ghettos, Vigario Geral, Favela Rising charts the story of Anderson Sa, Jose Junior and AfroReggae on a journey from outlaws to social revolutionaries. In their debut feature, directors Jeff Zimbalist and Matt Mochary allow us to see inside the notorious ghettos of one of the world's most fascinating cities.
In 1993, the killing of four police officers by a single druglord sparks the massacre or 21 residents of Vigario Geral by Rio's military police. The event triggers a profound change in Sa, whose brother was one of those murdered. He chooses to abandon his outlaw status in favour of one in which his energy is focussed on improving life and prospects within his community.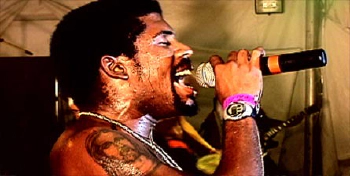 The ensuing social programme develops into Grupo Cultural AfroReggae a force for change in a society in which children asked - 'what do you want to be when you grow up?' - Reply, 'An Outlaw'. The footage (filmed using digital rather than film cameras) splices archival and news footage and gives us insight into the conditions, residents of the Favelas endure as part of their daily lives. It is at times harrowing and gruesome. A world away from the glamour and glitz of Cococabana beach.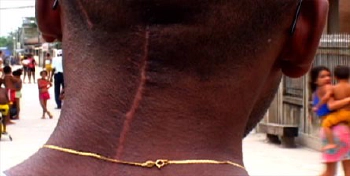 Anyone familiar with Brazilian percussive music will be thrilled at the soundtrack that moves the film along. The director's use music to convey the highs and the lows that permeate the footage, at one point you are hauled out of despair, lulled into joy and thrust back into fear for the soul of a movement trying to promote a different outcome for the thousands of Favela occupants.
Favela Rising serves as a reminder that many young people with no hope will attempt to fill the void with anything that remotely resembles a better life, if only in the short term. However, for me the central message in this film was one in which a single individual committed, can make a difference. Your heart will ache when you witness the deprivation, the death and the violence that permeates the lives of the people who inhabit the slums, but you will feel lifted when you recognise that hope of a better life, through art, culture and creativity prevails. Highly recommended viewing.
Favela Rising, 2005
Type: Documentary
Director(s): Jeff Zimbalist and Matt Mochary
Credits: Anderson Sa, Jose Junior
Runtime: 80 min
Language: Portuguese/English Subtitles
Certification: 12A
External Links
These links will open in a new window.
I wrote this review on 23rd December 2006, and it appeared first on Bambooo.co.uk, but it got me a job as a volunteer reviewer for a Theatre Review website, so I've decided to put it here as well