The story of Ron Stallworth, who is, as far as I'm aware, the only fully paid-up African American member of the white supremacist organisation the Ku Klux Klan (KKK), has been brought to the cinema audience by legendary filmmaker Spike Lee.
The film stars John David Washington in the lead role as a policeman who infiltrates the Klan. As his undercover investigation into the members and activities of the Klan in 1970's Colorado Springs, USA unfolds, we see how Stallworth, with the assistance of his white colleagues, uncovers terrorist plots to bomb various members of the black community and the involvement of high ranking klan members including that of Klan leader David Duke.
As is often the way with Lee's movies, the combined visual stylings of the film, the music, and the attention to detail in costumes and props immerse you into the period. Chayse Irvin (DoP) does an excellent job with the visual feel of the film. The Cinematography is less mundane crappy seventies, more fly soul-boy 70s' chic. I even wondered if I could grow an afro again.
In Blackkklansman, we have a movie interspersed with comedic moments that, while it did not pound the consciousness continually, was a difficult watch. It was challenging for me, of African descent, primarily since I was in a cinema where 95% of the audience was white. I found myself lowering my body farther into my seat as the film progressed.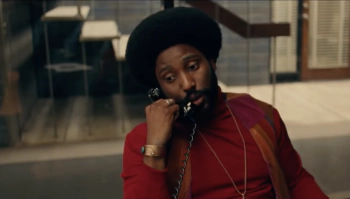 Lee's direction moves the story along at a pace, perhaps conscious that too much time spent dwelling on the more difficult concepts would be labouring the point too much.
Not since Infinity Wars have I been in a cinema where the ending of a movie stunned the audience into silence. With Infinity Wars, it was a silence of disbelief as beloved characters were whisked out of existence by the snap of two fingers.
In Blackkklansman, the scenes from the atrocious attacks in Charlottesville hammered home that nearly 50 years later, not much has changed.